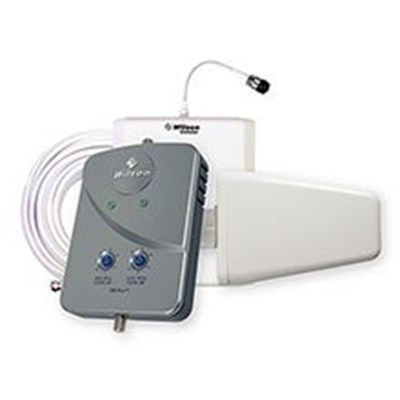 This product is guaranteed to be an authentic Wilson Electronics product.
The Apple new iPad 3 DB Pro cellular signal booster improves coverage – including 3G and 2G data downloads - for subscribers of all North American cellular networks.

The DB Pro kits feature easy installation without compromising performance. Each kit features the adjustable-gain DB Pro dual-band signal booster. The adjustable gain controls allow the installer to optimize the unit's gain to match the requirements of the building in which it's deployed.

This kit includes the Yagi directional outside antenna. The inside panel antenna, which rebroadcasts the amplified cell signal inside the building, is designed for optional flush mounting in the ceiling or wall. Components are connected using standard TV (RG-6) coax cable, which is often pre-wired in buildings.

With the DB Pro, you'll see fewer dropped calls, faster downloads and a stronger, more reliable cellular signal indoors.

Includes: DB Pro Booster 462005, Wall Panel Antenna 311155, Directional Antenna 314475, 6V/2.5A AC/DC Power Supply 859912, 30 feet of White RG6 Cable (qty 2) 950630, Hardware Kit.

Features
Max Gain of 65dB
FCC certified to 2014 technical specs
Boosts voice and 3G data signals for all major North American cell carriers
U.S.-based tech support and customer service
All needed components included in package
DIY installation
Stronger cell signal indoors
Fewer dropped calls and lost connections
Faster data downloads
Clearer voice calls
Longer battery life for cellular devices


This is a CONSUMER device.
BEFORE USE, you MUST REGISTER THIS DEVICE with your wireless provider and have your provider's consent. Most wireless providers consent to the use of signal boosters. Some providers may not consent to the use of this device on their network. If you are unsure, contact your provider. You MUST operate this device with approved antennas and cables as specified by the manufacturer. Antennas MUST be installed at least 20 cm (8 inches) from any person. You MUST cease operating this device immediately if requested by the FCC or a licensed wireless service provider.

WARNING. E911 location information may not be provided or may be inaccurate for calls served by using this device. Please note, the four largest carriers, namely, AT&T, T-Mobile, Verizon and Sprint, and more than 90 regional carriers have given a blanket consent to all boosters meeting the new certification standards.

Part Number: 462205-WE
Warranty: 2 Years
Manufacturer: Wilson Electronics