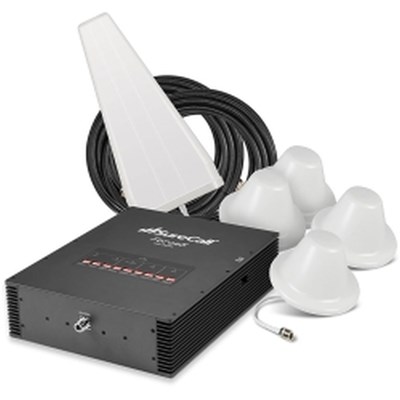 This product is guaranteed to be an authentic Surecall product.
SureCall Force5 2.0 cell phone signal booster kit, with Sentry Remote Monitoring built-in, increases cellular coverage for areas 25,000+ sq. ft. for all carriers voice, text and 4G LTE data signals. Kit includes 30 ft. and five 75 ft. lengths of SureCall 400 low loss coax cable, 4-way splitter, outdoor Yagi antenna and four indoor dome antennas.

Commercial Integrator BEST and CE Pro BEST award winner, Force5 2.0 is the next evolution in cellular signal boosting technology and the #1 DAS alternative.

Equipped with SureCall's built-in Sentry remote monitoring hardware, Force5 2.0 is the first cell phone signal booster with integrated remote access to adjust and optimize booster performance from off-site via mobile app.


Boosts voice, text and 4G LTE signals for all North American cell carriers
Increases signal strength 25,000 sq ft in typical conditions and up to 100,000 sq ft in ideal conditions
Reduces dropped & missed calls and improves data performance
SureIQ Technology balances incoming signals, preventing shutdown and maximizing performance in strong signal environments
+17 dBm downlink power provides expansive indoor coverage
Multiple kitting options offer the flexibility to customize installation in any building or floor plan
Industry-leading 3 year warranty, 5-year extended warranty available
Coverage up to 100,000 sq ft in ideal conditions with outdoor signal strength -50dB or stronger and open indoor spaces. Additional antennas may be required.


SENTRY REMOTE MONITORING
Force5 2.0's integrated Sentry hardware offers seamless off-site adjustments to maximize performance at every location. A must-have for building owners, managers and installers, Sentry provides fast adjustments via remote access when continuous up-time is mission critical.


Access via Android app, iPhone® app or Sentry web portal
Quickly pinpoint malfunctions due to unforeseen changes such as newly installed cellular towers or repeater systems
Immediately notifies you about booster changes and over-powering
Remotely monitor and adjust booster performance, including uplink, downlink or band
Optimize installation by monitoring and identifying the strongest signal strength available


FCC Warning - This is a CONSUMER device. BEFORE USE, you MUST REGISTER THIS DEVICE with your wireless provider and have your provider's consent. Most wireless providers consent to the use of signal boosters. Some providers may not consent to the use of this device on their network. If you are unsure, contact your provider. You MUST operate this device with approved antennas and cables as specified by the manufacturer. Antennas MUST be installed at least 20 cm (8 inches) from any person. You MUST cease operating this device immediately if requested by the FCC or a licensed wireless service provider. WARNING. E911 location information may not be provided or may be inaccurate for calls served by using this device. Please note, the four largest carriers - AT&T, T-Mobile, Verizon and Sprint - and more than 90 regional carriers have given blanket consent for use of all boosters certified to the new FCC standards.

Part Number: SC-PolyO2-72-YD4
Warranty: 3 Years
Manufacturer: Surecall